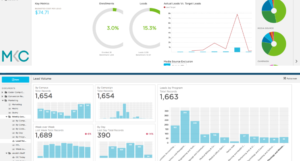 What if  your team had data analytics in real time for your Institution to improve now the following areas:
Financial Visibility
Enrollment Online/Ground
Fundraising Development
What if  this proposal pays for itself many times over quickly?
What if  your team had an advocate to navigate the absolute best service provider relationships?
What if  we provided financing with a fresh strategy we develop together to propel your institution forward?
What if my experience both good and bad plus valuable relationships become your advocate for success?
What if together we could help your team design/execute your own strategy? How does this all work?
Installation of our Business Analytics Intelligence system which is mission-critical to the creation of the strategy plus the execution for all stakeholders.*
Work closely with your senior management leadership to design YOUR custom strategy.
"RFP" process if specific outsourced Service Providers desired (we know them all; can negotiate the "right" agreements directly between your institution/Service Providers).
Financing to support your expanded program access.
* One of the biggest challenges nonprofit schools face is revenue growth/ forecasting. My collaborative style of creating a custom strategy has helped increase surplus revenue (campus/online enrollment/development), as well as give executive management better visibility to attribute where your dollars are being spent to give your mission the best ROI. Through analytics (business intelligence) we can collaborativelydetermine the proper course of action for your team by giving dashboard visibility to ensure everyone executes their role. TRANSPARENCY IN REAL TIME WINS THE DAY.
What if we could dream together soon: 760.801.5021?