What If…we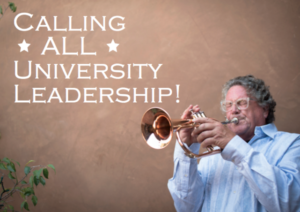 could align all your stakeholders around a data dashboard to solve problems…
What If…you could draw on my 20+ years of relationships & scar tissue to improve all the important metrics of your school…
What If…my help becomes a surplus/profit center for your school…
What If…we can use our Business Intelligence Data Analytics system to quickly turnaround financial challenges…
What If…we can attract Money, Marketing & Management to transfer control of valuable core competencies to your Institution…
Now we can provide real-time data analytics to whomever you want in your Institution –for a fraction of the cost available anywhere–plus you would have access to my advisory help…all we learned from Grand Canyon University, Jack Welch Management Institute & Forbes Business School:
Business Intelligence/Data Analytics: Provide a customized dashboard for your leadership team to track in real time every important metric of your institution;
Increase revenue by increasing campus-based and/or online enrollments;
RFP for Service Providers if you need them in any area of your institution. We have vetted over 42 service providers. We can help hire, fire, or manage collaboratively Service Providers in order to get you the best returns. We do not get paid by the Service Providers.
Low-cost, Project-Based funding should you decide you want to re‑tool or launch new degree programs;
Web Development: Because of such high demand for skills-based Web Development Programs, we offer the only pure online/hybrid Private Labeled program at no upfront cost to your institution. This includes Data Analytics, Mobile Applications, Web Development and more. These programs are currently being taught at Rutgers, UT Austin and to major Fortune 500 corporations.
Please consider scheduling a 15‑minute exploratory call with me at your convenience? mkc@mclifford.com | 760.801.5021
Our 20+ years of experience helping leadership teams build some of America's most successful institutions empowers us to come along side leaders like you as an advocate to help increase access plus revenues. Please note, I would love to chat with you at your convenience. Thanks again.