Today was a terrific day.  Because today I got a chance to donate my entire day to helping serve others.
Last night our charity-of-choice, www.dreamcenter.org enjoyed its annual Gala Night Of Dreams fundraising event in Los Angeles.  This event is only about five years old and was started very small with the first event raising barely $100,000.00 from friends and family of the charity.  
Last night I got stuck in St. Paul working on a transaction so I was unable to attend the event.  Fortunately, my terrific wife Lindsey, was able to make it to the event to apologize to the 40 people I invited when I did the no show.  She did a remarkable job.  
Getting home late last night, I eagerly got up at 5:15 AM to make the early rush hour drive from Rancho Santa Fe, California to Los Angeles.  With a tall cup of hot coffee, I gleefully cruised to Los Angeles jabbering away on conference calls the entire way.  I was so happy to get a chance to work with an organization that is really making a difference 24/7 in people's lives.  
When I got to the Dream Center for the board meeting at 8:30 a.m., the leadership was walking around exhausted and a little bit numb.  They almost struggled to tell me that the event had raised over $2.5 MM Dollars.  This was an outstanding success considering last year's event had barely raised a million dollars.  
The moral of this story is that money follows ministry.  Just like prosperity follows hard work.  The people at the Dream Center never stop serving the needs of others:  rich, poor, black, white, Asian, any color, race or religion.  Their leadership is based on a desire to serve others.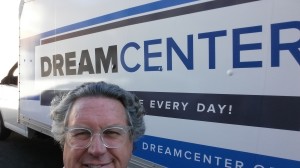 Because of this attitude, they achieved exorbitant financial success last night.  There are so many parallels to business.  
When we build people we build our companies.  The only way to build people is to serve them.  To figure out what is each individual's dream for their lives.  What are the challenges or hurdles they're facing.  How can we as leaders or entrepreneurs help them find their dream.  
It's the same as the counselors at the Dream Center do when they pick up a prostitute who wants to be rescued from sex slavery, or a 20-year crack addict on the street who's begging for help before they die.  Service to others equals success.  
It's now 7:30 at night and I'm heading from Los Angeles back to the North County of San Diego.  The traffic is not too heavy.  But I must say I feel rejuvenated, even though I should be exhausted from three days of intense travel.  I feel rejuvenated because I feel I made a contribution today beyond buying a toy.  I love toys.  But giving back of our time, talent and treasure in a business relationship or to a charitable cause always gives one the most satisfaction.  
Send me a note about what you have done to serve someone in the last week?